[Nicky Laatz] Butterscotch Typeface – $20
This font is so incredibly versatile and adventurous, I had so much fun using it in action, and making the previews for it, I couldn't stop – so I'm left with a growing collection of examples for you to look over anytime you need inspiration on what you can do with it! – You can find more here :
http://instagram.com/nickylaatz/
https://www.pinterest.com/nickylaatz/butterscotch-typeface/
---
ABOUT BUTTERSCOTCH A beautifully organic, hand-lettered script, carefully crafted and then digitised into an easy to use, elegant yet 'inky', typeface.
Feel free to see ALL these glyphs in the 5th Preview Image above – click to see full image.
---
IT INCLUDES
Standard Uppercase and lowercase characters (See previews) (OTF, TTF), including accented letters – you can see a full character map here : https://www.dropbox.com/s/1lyyllsja2syrlo/ButterScotchOTF.pdf?dl=0 – Feel free to request other characters and I will do my utmost to accommodate you 🙂
Alternative characters for lowercase and uppercase letters to add uniqueness to each word. (OTF,TTF)
60 Decorative Ornaments – a selection of gorgeous swishes, curls and twirls to finish off your typographical masterpieces (TTF)
50 Extra elements – Inky ,hand-drawn catchwords, ampersands, and banners. (TTF)
Handy Reference documents for all the extra characters and glyphs.
BONUS GOODIE PACK – 2 editable quote design psds, a set of hand-painted high resolution, watercolour png roses and leaves , a free photoshop watercolour style , and a free high resolution watercolour texture (see http://bit.ly/1KEUojk for the freebie pack preview )
---
HOW TO USE IT It includes one all inclusive OTF for Illustrator and Indesign savvy users, and the TTF equivalents for all other users.
---
WHAT YOU CAN DO In a few key strokes you can whip up a typographical masterpiece that will look as if you spent hours hand-lettering it yourself. Its perfect for :
Greeting card/Wedding and Invitation designs
Typographical posters/insignia/apparel designs
Individual and unique branding, logos and CI
Hand lettered Envelope addressing and personalised stamps
And so much more…
You may use this font freely in your commercial and personal projects 🙂
Nhà thiết kế: Nicky Laatz
Ra mắt: 27/1/2015
Trọn bộ: 5 font – MUA NGAY!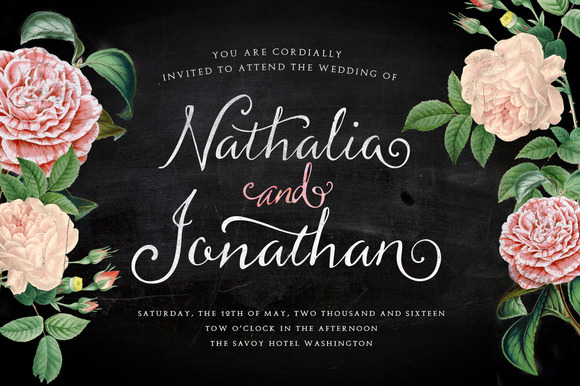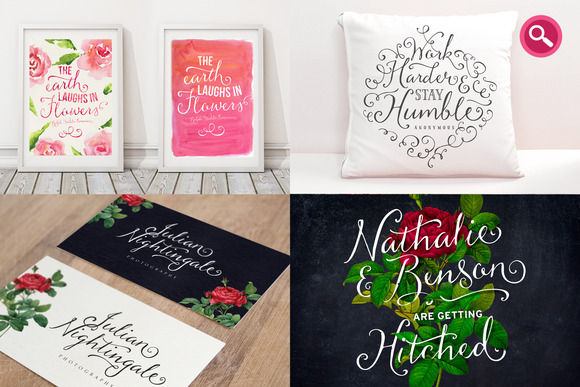 Font được chia sẻ từ bạn Havingfun2500 – thành viên diễn đàn Vietdesigner
TẢI VỀ TẠI ĐÂY

LINK DỰ PHÒNG TỪ FONT STORE